It's true. I grew up in a Trekkie household, in which neither of my parents were interested in Star […]
"step out into the sun" by plutos
Pairing: Poe Dameron/Finn (Star Wars)
Word Count: 71,365
Warnings: so sweet you may get a cavity
Author's Summary
"I gotta talk to you, buddy, real quick," Poe says lowly, and grabs Finn's hand to haul him back out of the mess hall. His pilot friends cheer loudly, Karé yelling something about keeping it decent, and Finn barely has a second to process it before Poe's yanking him away and into a deserted side corridor.
"I can explain," he says quickly, running his spare hand through his hair.
"Well good," Finn snaps hotly, "Because I've had a really fucking weird day."
_____________________________
Otherwise known as: Finn Is An Oblivious Numbskull, or: the one where Finn gets a name, a jacket, a droid, and a marriage out of nowhere in only a few short weeks.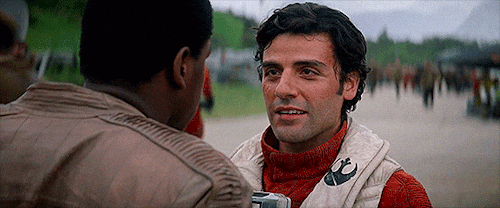 About six months ago, I wrote about one of the biggest problems die-hard Star Wars fans face: what's the best order in which to view the Star Wars films? To recap: I'm the child of one of the OG fans (one who proudly boasts of standing in line for hours in 1977), and now that there are ten–soon to be eleven–films, what I once knew to be true (OG trilogy then the prequels aka by order of release) no longer applies.