Dearest Collectors,
Before I begin talking about Zoey's Extraordinary Playlist, I want to address something that's a little personal. You may have noticed that I've been less active on this blog, and on all my social media, of late. While this is partially due to real-life work and personal obligations, a great deal of it has to do with my personal health. I've been seeing medical professionals for a variety of reasons, but, a few weeks ago, I made the decision to start medication for my anxiety and depression. The adjustment period has been a rough one (to say the least). Many days I find it hard to do much of anything besides take a nap on my sofa, or binge-watch a mindless TV show.
Which, to make a long story extremely short, is how I found Zoey's Extraordinary Playlist and realized that it was just what I needed during my current mental health state.
If you haven't yet seen the show, here's a quick summary of its premise: Zoey, a coder at a tech firm, suffers a mishap while in an MRI machine that allows her to hear other people's inner thoughts…in the form of Broadway-esque musical numbers.
It sounds like it would be the light-hearted musical that you could unwind to after a bad day, right?
Yes, but also…it's so much more than that.
TBH…I started watching for the singing.
Musicals have always been my happy place (I've seen Hello Dolly! more times than is probably healthy) and Zoey's Extraordinary Playlist started right around the time I was at my lowest point mentally. Pitch Perfect alumn Skylar Astin is a member of the cast, and I won't lie, the thought of hearing him croon on my TV once a week lifted my spirits considerably. And, then, of course, once I started watching, I fell in love with the voices of the rest of the cast as well.
Here's the cast singing "Jesus Christ Superstar" and, well, it's kind of perfect and definitely lightened my mood.
While the musical numbers themselves are incredibly beautiful, it's really the reasons for the song choices that make this show so special.
It's really a show about what it means to be human
Sometime in the first episode, I realized that what I thought was a "cute little musical" was really a clever way to talk about the things that all humans don't want to talk about.
Zoey connects with a coworker after she hears him singing "Mad World," and discovers that he lost his father to suicide. Zoey's father suffers from a rare neurological disorder and has only a short time to live and has very limited communication with his wife and children. On the surface, nothing in the promo for Zoey's Extraordinary Playlist made me think that it would deal with mental health, and yet, in the few episodes that have aired so far, it has covered the grieving process, unhappy marriages, loneliness, gender identity and the confusion that sometimes comes with it, and even agoraphobia.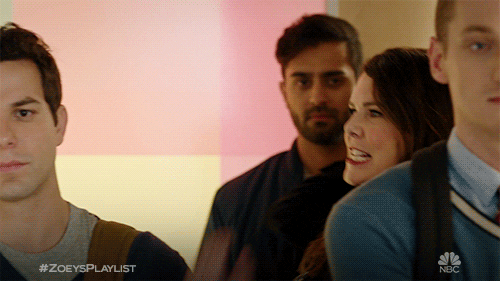 One of the best things we can do for self-care is to do an honest assessment of our mental and emotional health, and Zoey's Extraordinary Playlist offers us a simple way to do so.
As someone who is currently struggling with achieving a stable mental health state, I wondered, what would my inner song be? What would Zoey hear if I sang to her? It prompted a very honest discussion with myself about my emotional health. Last month, my mental song probably would have been Sia's "Breathe Me", which is not really a great song to have as your inner soundtrack. However, every day I wake up, and I feel a little bit better, so if Zoey were to hear me today, I'd probably be singing "Here Comes The Sun" by The Beatles. It's not "Walking On Sunshine" but it's on the road there.
Zoey herself struggles with talking about her feelings about her father's illness, and can I say how wonderful it is to see a TV show centered on a young, successful woman that focuses on her–and the characters around her–building strong support groups where they can connect and share their authentic feelings? Emotional and mental health is at the forefront of this show, and it's beautiful to see.
It's about being true to yourself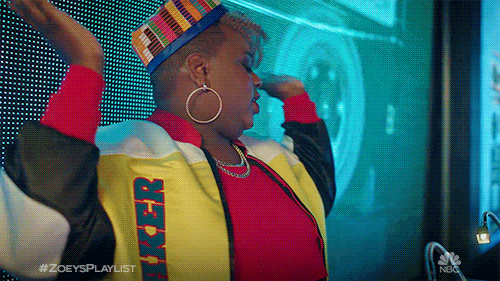 My favorite character is Mo, Zoey's neighbor from across the hall, who seems to unashamedly be themself from the first instant you meet them. Mo is the only person who knows about Zoey's ability, and plays the role of best friend/lead investigator of figuring out how Zoey's ability works. Mo is such a warm and charismatic personality; unfortunately because of TV stereotypes, I kind of assumed that their gender fluidity and sexuality would be acknowledged but not acknowledged, you know, the way most modern TV seems to "have representation" nowadays.
Not so with Mo.
The latest episode dealt specifically with Mo living two lives: the Mo who is an exuberant DJ who loves sequins, and the Mo who wears neutral colors and sings in a church choir. It's almost physically painful to watch Mo struggle with being their authentic self in their place of worship because of a past of ostracism and judgment. While my own origin story differs greatly from Mo's, I can empathize with having a lifestyle that isn't accepted by the church you grew up in, and it's a story that I feel resonates with many people who spent years struggling to accept their sexuality or gender identity.
Watching Mo walk into their church wearing that gorgeous sparkly dress was the most affirming moment on television that I have seen in a long, long time. Mo decided to live their best life and do so by not compromising who they are or what they believe in. Mo has a light, and they let it shine.
Wherever you're at in your mental health journey, remember that, like Mo, somewhere you've got a light in you. Let it shine.
Zoey's Extraordinary Playlist airs on Sundays on NBC and is available to stream on Hulu.