It's the end of another year, and it's also the end of some pretty big pop culture phenomenons. We here at the Collective have rounded up a few of our favorite things from 2019, just because we're a little nostalgic and maybe not quite ready to move into 2020.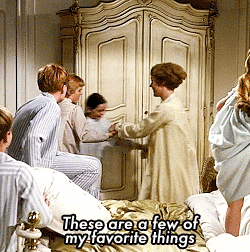 The Collectress' picks
The Farewell
This film was probably the best thing I saw this year. It was such a beautifully told (yet poignant) story about the strong bonds of family, and although I cried (a lot) during the movie, I also walked out of the theater with an incredibly hopeful heart. Also, can we just give Awkwafina all the awards? All of them. 
I Love You 3000
Speaking of things that made me cry in 2019, how about we talk about RDJ's ad lib of "I love you 3000", which he put in the film because it's something that he says to his own kids? So basically, it was his way of talking directly to me the fandom and telling me the fandom that he loves us at the end of his 10+ year journey as Tony Stark. I'm not crying; you're crying. 
It is easily the most quotable thing from any MCU film ever, and it's probably going to be the quote that from the Avengers' Infinity Saga that sticks in pop culture forever. 
Stevie, Schitt's Creek
This year, I became obsessed with Schitt's Creek and fell in love with this small town and its dysfunctional yet loveable characters. While every character on the show is my child, Stevie seems to resonate with me more than the rest. She's single, stuck in a dead-end job, and kind of just blends in the background for most of the show. She's mostly content with this, yet with Moira Rose's encouragement, she takes the lead role in their town's production of Cabaret, and she gets her moment to shine. It's such an emotionally fulfilling moment for the  character, and for the audience, and it's definitely my top TV moment of 2019. 
We Hunt the Flame
A Twitter friend recommended this book to me, and I fell in love. It's a fantasy adventure with some of the best writing I've yet encountered in the YA genre and…it's beautiful. I met the author at Geek Girl Con last month, and now I'm even more excited for the sequel, due out summer 2020. Full review of the book is coming soon, I promise!
The Collected Mutineer's picks
Haunted Heart by Christina Aguilera
If there's one thing I remember from the latest iteration of The Addams Family, it was the slightly spooky single contributed by Christina Aguilera. "Haunted Heart" played during the credits, and honestly I feel like it was the best part about the movie. There's no doubt that Christina has one of the best voices in the business, and this is the perfect song to showcase her vocals. Not only is it both creepy and beautiful, but it's the sort of song I would expect Morticia and Gomez to absolutely love. As for me, it's going on my Halloween playlist.
Toss a Coin to Your Witcher
While I heartily believe that Netflix's latest bingeworthy hit The Witcher deserves its own spot on this list (nay, its own post!), there's also no doubt that "Toss a Coin to Your Witcher" has taken the internet by storm. The incredibly catchy song, brought to life by bard Jaskier (Joey Batey), is more than just meme fodder—it's the very soul of the show. Jaskier isn't just penning a minstrel tune for his own sake; he knows the value of a good song, and in telling tales about Geralt of Rivia he's doing his best to change public opinion about the moody, misunderstood monster-hunter. After all, "he's a friend of humanity." 
The Bird King by G. Willow Wilson
If you're a fan of medieval history, magic realism, or the work of G. Willow Wilson, then you'll likely agree that The Bird King was one of 2019's best publications. Set in Al Andalus during the last years of Moorish rule in southern Spain, this evocative story of a young concubine and a mapmaker running away from the Alhambra palace is a delightful mixture of genres. 
Booksmart
Films about high school are far from new. On the surface, Booksmart appears to be just another teen movie, full of cliches about social standing and girl-world problems. But this movie was nothing I expected, and everything I wanted. Director Olivia Wilde throws stereotypes to the wind in this exploration of female friendship on the cusp of adulthood. It's a sincere celebration of loyalty and love in a world where we need refreshing content. Bonus points for a wonderful appearance by Billie Lourd, who is absolutely hilarious in her supporting role. 
The Nerdling's picks
Captain Marvel
Like Wonder Woman in 2017, seeing a woman be the hero of her own comic book story tops my list of 2019 favorites. Was Captain Marvel a perfect movie? No, but it was a really good origin story that was on par with other Marvel juggernauts, Doctor Strange and Captain America: The First Avenger. Brie Larson made a great badass who was thrilled to become a role model for young girls. Also, "I have nothing to prove to you" hit every woman right in the feels.
Jojo Rabbit
Todd Phillips can take his opinions on making comedy movies in the present and shove it. Taika Waititi made an amazing comedy about Hitler that is also touching and a much-needed commentary of our divided times.
FIlmJoy – Twilight Deep Dive
FIlmJoy is a YouTube channel I discovered earlier this year and it might be my favorite thing. The creed of the channel is to enjoy movies, not poo-poo on them as many other YouTubers make their coin doing. Mikey Newman and company have been running this channel for several years (under the name Chainsaw Productions until about a year ago). The channel is most known for its series "Movies with Mikey", but one of my favorite videos dropped this year is their "Deep Dive" on 2009's Twilight. Much like the Fandom Entertainment documentary on the Twilight fandom, the group of friends watch the much-maligned movie and found what makes it an enjoyable film to behold.
Black Leopard, Red Wolf by Marlon James
The first book in the Dark Star Trilogy, James's book is an amazing fantasy of a Tracker who is in search of a missing child. Unlike other fantasy novels and series, this one is not rooted in European history (specifically the Middle Ages). James draws upon African mythology to create this amazing world I didn't want to leave when I reached the last page. It is a slow burn, but once you are established in this new world the book goes faster than you want. Another reason to be excited about this book, Michael B. Jordan bought the rights to adapt it! 
Smartypants Romance
Penny Reid is one of my favorite, no strike that, is my favorite romance writer. She writes interesting characters that you don't normally see in romance novels (those of you who read romance know the typical heroine and hero types). She also built this network of characters that all interconnect through her books. They are so easy to love and makes me wish I could be a person in her world. To keep up with the demand of the world she promised she would expand, she created Smartypants Romance and tapped several authors (many of them still new to publishing) to expand her cast of characters we fell in love within her other novels. 
Zelwing's picks
Fire Emblem: Three Houses (AKA The Best Anime Harry Potter Simulator)
What if you threw a bunch of teenagers from different walks of life into an elite, remotely located school where they spent their time learning how to use magic and dueling with medieval weapons? Sprinkle in a little political ideology and religious zealotry on top of a millenium-spanning secret war, and you have the glory that is Fire Emblem: Three Houses.   
Okay, maybe it's not exactly Harry Potter despite the teenage school drama, good prevailing over evil themes, and existence of magic. But fam, I'm absolutely in love. I'm legit still playing this game and it came out in July. It's that good.
Ight Imma Head Out
Okay so this meme originated on Twitter in 2018, but it absolutely exploded this year and has brought me endless joy both in and out of the internets. Plus we definitely need more SpongeBob memes. 
Tolkien 
If I was on a desert island and could only choose one thing to take with me, it'd be Tolkien's The Silmarillion. Sounds ridiculous, but it's likely I wouldn't survive very long abandoned by myself so I'd at least be able to entertain my brain while I waste away. This epic history of the elves encompasses everything I love about his work – world building, unique cultures, textured history, but most importantly elvish languages. As a linguistic scholar, J.R.R. Tolkien invented over 15 languages during his lifetime. The movie Tolkien places his love of language (and unfettered joy in its creation) front and center while also reminding us that our beloved fantasy author was once a youthful, vibrant person who faced horrific struggles and managed to find some measure of happiness. If you find any joy in his work, you'll definitely enjoy this speculative film about Tolkien's early life.
The Mandalorian
Everyone loves baby Yoda. But, that's not all that's magnificent about The Mandalorian. Hashtag sorry not sorry, this is the first Star Wars property in a while that's actually felt like the original trilogy to me. Characters who do the right thing even when it's difficult, spaghetti western space opera vibe, grit and realism that makes you feel like you're part of the story, gorgeous practical effects, flipping puppets instead of CGI I mean come on. I've always been a sucker for Mandos (Boba Fett is bae and badass despite his ponderous fall into a Sarlacc pit during ROTJ, you can @ me if you want let's chat about it) so I'm frothing at the mouth for more of this greatness. There isn't enough space to gush about it here, but The Mandalorian is a masterpiece. Thank you, Jon Favreau. 
The House of Stars
I'm late to the Webtoon party, but boy howdy am I onboard now. I've read so many comics in the last month, it's not even funny. If you're uninitiated as well, you should definitely check it out! Line Webtoon is a self publishing platform for comic artists to share their stories for free. There are so many incredible artists and storytellers on this awesome site, but one of my recent favorites has to be The House of Stars by Lion Illustration (artist) and Saltacuentos (writer). Its gorgeous style and succinct but heartfelt narrative will suck you in from the first page. If you love classic fairytales and confident girls with moxie, this one's for you.
The Canadian's picks
The Adventurous Eaters
Club
by Misha and Vicki Collins
     If you're familiar with the abnosome adventure (chaos?) that is GISHWHES/GISH, then you are likely aware of the plethora of creative challenges actor Misha Collins invents—all in the name of positive, global transformation and embracing weird. The Adventurous Eaters Club is a similar gift, where creative adventures are food-centric, and healthy eating/living is the aim. Be open to trying some new recipes such as Confetti Frittata, Sidewalk Crack Salad, and The Pirate's Eye. 
      As the mother of a 2-year-old, I empathize with Misha and Vicki when they discuss mealtime battles. "Beige, bland, and boring" becomes the go-to, void of nutrition, but (as Misha says) at least the kids are eating. Add 1 cup exhaustion, 1 cup convenience into the mix and clumps of guilt will begin to form. Without writing an extensive review, I'll just say this book aims to expand kids palates (in addition to nutrient intake) through family teamwork, and active participation surrounding meal preparation. Expect to discover thought-provoking research, cultural illustrations, edible sidewalk plants, and extensive "tips and tricks" that support growth: interpersonal, developmental, and plate variety. Stir in an abundance of love, season with fun, and enjoy! 
"I'm Still Worthy-Thor Tribute" by Jadon Wong
Thor's character arc will forever be one of my favorites. The "still worthy" scene in Avengers: Endgame is among my top choices of favorite scenes, not just for 2019. Loss and heroism, regret and anger, redemption and hope…the relatable themes woven into our own stories continues to bind us with these characters. 
This tribute not only encompasses Thor's journey in the span of a few minutes, it serves as a mirror for many viewers who may find themselves empathizing with Thor's doubt. In our worst headspace, amidst the lies we make ourselves believe, the truth still exists. We, too, may need to speak it aloud to remind ourselves: I am still worthy. 
What's your 2019 highlight? Tweet at us!