My favorite thing to do at conventions is wander the exhibition floor. It's part swap-meet, mostly nerd-fest, and the geeky consumer's shopping paradise. For conventions like Los Angeles Comic Con that take place close to Halloween, well, there's more than a few vendors who bring the spoopy.
This year, while wandering the floor at LACC, I came across the Sweet Romance Jewelry booth, with their Elvira collection. I suppose this is a good time to mention that I was dressed like Crowley from Good Omens, and had a snake wrapped around my arm. The ladies running the booth must've sensed my spoopy vibes, because the next thing I knew, I was wandering their booth while they showed me all of the snake-inspired pieces they had (which, were quite a few).
After much debate, I settled on a pair of snake earrings…but to be quite honest….there were at least 15 other pieces that I would have happily taken home. The Elvira collection includes such spook-tacular pieces as the spider earrings, the Transylvania cameo necklace, a bat necklace, and even her magic ruby ring!
The collection, put together by Sweet Romance Jewelry, is designed by Shelley Cooper and manufactured in Los Angeles. Their work has also been included in the Edith Head wardrobe department at Paramount Studios! They've also been featured in Vogue, Elle and other fashion and women's magazines.
Also, for the suit-wearing person who wants to look spoopy and dapper, there are some seriously goth cufflinks in the collection:
I am extremely happy with the earrings that I purchased, and I received several compliments on them that day because I put them on as soon as I walked away from the booth. I've currently got my eye on the crystal ball pendant, because who says that Halloween has to end? (It's always Halloween at my house.)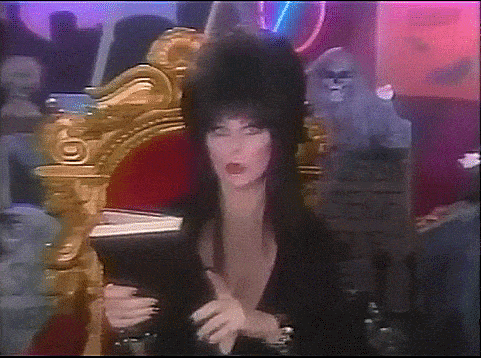 You can see the Sweet Romance Jewelry Elvira collection on their website, Instagram, and Facebook,.
Happy Halloween, ghouls! And happy shopping!