by The Collectress
As a relative newbie to anime, I sometimes find it hard to suss out what titles are worth watching and which aren't. What I want from an anime binge-session is breath-taking aesthetics, engaging storylines, and, well…I want it to tug on my heart strings, okay?
In that respect, Violet Evergarden did not disappoint.
Actually, it didn't disappoint me at all. It's as close to perfection as I've ever watched.
*NO SPOILERS HERE*
WHat's It About?
Violet Evergarden is about a young woman who is recovering from the horrors of war. Violet was a child soldier, and seen as only a weapon by everyone except her commanding officer, The Major. The Major's dying wish was for Violet to go out and live her life, followed by his confession of love for her. As a woman who was traumatized from years of warfare, she struggles to understanding the meaning of his words and sets out to learn about the complexities of emotion by becoming an "Auto Memory Doll" (AKA a letter writer.)
It's a soft look at the highs and lows of the human experience and, ultimately, how we move on from the dark moments in our lives.
Should I Binge It?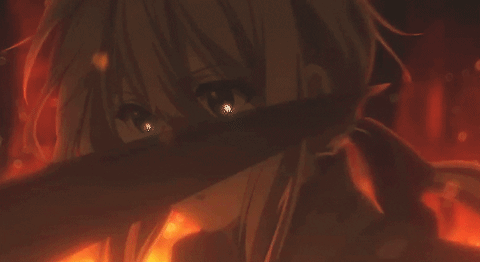 If you're looking for an anime with a lot of heart and character development, then yeah, you should definitely watch this one. I watched the entire series over the span of a few days, and I sobbed in every episode. 
As Violet learns to emote and empathize with others, we feel for her and with her. Each episode brings with it some new type of love, or loss, for Violet to experience, and it brings her closer to accepting the pain of her past and forgiving herself.
Is it weird to describe this journey of self-discovery as "soft"? Because it is. It touches on these difficult topics–which could be just as traumatizing for the audience as the titular character–with incredible gentleness.
I'll say it again: I cried in every episode.
Watch Alone Or With Others?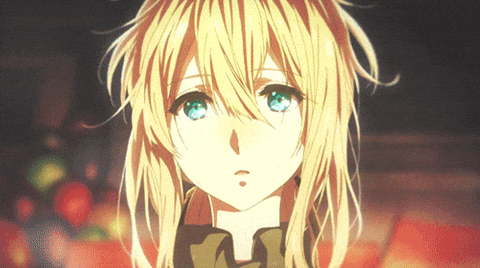 I'm not sure if I could watch this series with a group of people. I was pretty emotional throughout my viewing, and I'm not a big fan of people seeing me when I cry. But, if you don't have the same hangup as me, then grab a hot cup of tea and your best friend and just feel the feels, my dude.
On another note, I wouldn't try to watch this one with kids. The flashbacks to the war are pretty intense.
But Really, Should I Watch It?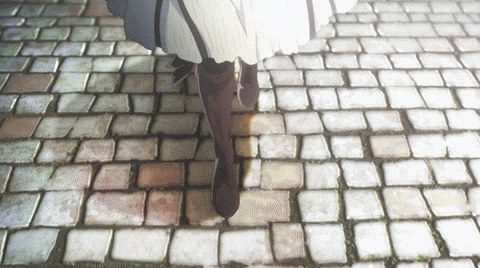 Well, let me put it simply. Check out Violet Evergarden if:
You enjoy anime with stunning visuals
You enjoy foreign language shows
You appreciate a story with a lot of character development and poignancy
You like having your heart strings tugged on.
Did I mention the stunning visuals? Really. It's just breathtaking.
Violet Evergarden is currently streaming on Netflix (with a movie coming in 2020!).