It's a universal truth that the world sucks.
However,  it is also a universal truth that the world sucks just a little bit less because we have Paul Rudd in it. He's an actor, he's a writer, he's a producer, and he has one helluva sense of humor.
If you're wrapping up your work week and you need a pick-me-up, or if you're like us and you just need all the Paul Rudd content in your life, the Collective team has your back. We, like Mark Ruffalo, stan a comedic hearthrob.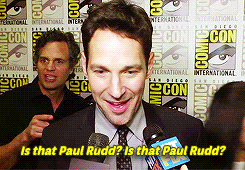 Please enjoy this small selection of what the Collective team most enjoys about Paul Rudd.
Clueless
Let's be honest…the Paul Rudd awakening really started with this quintessential 90s movie. If you've never seen a really young Paul Rudd as Josh opposite Alicia Silverstone's Cher…have you even really loved Paul Rudd?
Kunu in Forgetting Sarah marshall
This movie was ridiculous, and hilarious and Paul Rudd as a super cool dude surf instructor is the comedic masterpiece I didn't know I needed. There's a lot of really funny people in this film, but somehow Kunu is the one I remember the most.
"You Spin Me Round" With Jimmy Fallon
I have watched this video approximately fifty times since it aired, and I will probably watch it fifty times more by the time this post goes up. This video has everything: Paul Rudd in eyeliner, Jimmy Fallon in a big red wig, bad dance moves, a disco ball…it's perfection.
(Also, if you haven't seen them already…check out Jimmy and Paul's other music video remakes of Styx's "Too Much Time On My Hands" and Go West's "King Of Wishful Thinking")
Celery Man
For Tim and Eric Awesome Show's finale, Paul filmed a very odd, but still hilarious bit giving us a look at the actor watching miniature versions of himself dancing (because who doesn't love Paul Rudd dancing?!?) on his computer. For those who frequent this site, this might look a little familiar.
The Greatest Event in Television History (Bosom Buddies)
Adam Scott (ex-smoker and another super lovable actor) set out to create the greatest event in television history. After a few other attempts didn't break the TV-verse, Adam called his best friend Paul Rudd to do a shot for shot recreation of the Bosom Buddies opening credits. Paul is asked to play Tom Hanks' character, Kip. Adam is to stand in for Peter Scolari's Henry.
But before we get to see the recreation, Jeff Probst takes us behind the scenes. Paul really goes overboard to make sure he is very much in character. He even has the weather reports for when the 80's sitcom premiered and goes to live with Adam and his family so the two could have the perfect dynamic to play roommates. Adam bit off more than he could chew, but I think the end result was worth it.
sex panther (and everything else in anchorman)
Anchorman: The Legend of Ron Burgundy has been one of my favorite comedies for years. Is it utterly inane? Yes. But it's also full of great puns and absolutely hilarious performances from the supporting cast—primarily Paul Rudd and Steve Carell. I would ask how they managed to get through these scenes without laughing, but if you've watched the gag reels, then you know the answer is "they didn't." One of my favorite Paul bits from this film is the Sex Panther scene, in which his character decides to don a pungent fragrance in the hopes of winning over Christina Applegate's character. Spoiler: it's gross and doesn't work.
Lip Sync Battle with Jimmy Fallon
You can't go wrong with a good old fashioned lip sync battle. This face-off between Paul and Jimmy is one for the history books. Paul is SO INTO his lip sync rendition of Queen. It's a thing of beauty. I, for one, think he would slay a lip-sync-for-your-life on RuPaul's Drag Race. 
Trolling Conan O'Brien
If you watch Conan on a fairly consistent basis as I do, you know Paul loves to troll the late-night host every time he comes on to promote a film. Under the guise of sharing a clip from his latest movie, Paul replaces it with the same scene from Mac and Me the 1988 kids movie (which is also a decent rip-off of ET).
You would think Conan would have learned his lesson by now, but Paul pulled this bit at least 30 or more times. And he still manages to get away with it even when promoting Marvel movies.
SNL – A Journey Through Time
This was not the best skit from Paul's latest hosting gig, but watching him not break as Kate McKinnon climbs all over him while talking about her "cooter and pooter being on display" after time traveling to the past is something to behold. A Herculean act previous hosts and cast members have failed in attempting.
Paul Rudd As An Avenger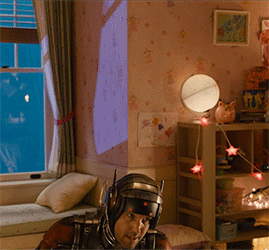 Becoming a superhero hasn't cramped Rudd's comedic style. If anything, he's funnier than ever and some of his antics with fellow Avengers proves that. Just look at this awkward prom photo with him and Jeremy Renner AKA Hawkeye.
Want to know what Paul Rudd is like on set? Well, ready your funny bone and watch this interview in which he describes his attempt to "basic instinct" Oscar-winning costar Michael Douglas.
In conclusion: we love Paul Rudd. We may or may not be watching Paul Rudd videos right now. And there may be a part two to this Paul Rudd-lovefest in the works.
#cantstopwontstop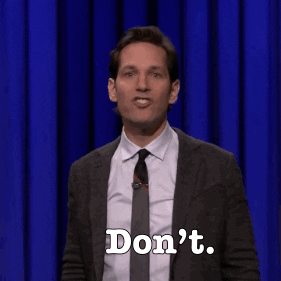 Love Paul Rudd as much as we do? Share with us your fav Paul Rudd moments in the comments or on Twitter!