By Nerdy Donut
I finally had a chance to binge the last half of The Marvelous Mrs. Maisel, and, yes, it is binge worthy. After a slow start, the show found its groove again, giving us comedy, scandal, and a love triangle. In the second half of this season, Midge is a force to be reckoned with.
*spoilers ahead*
The second half of the season picks up where we left off in my previous review—Midge's father found out she was doing stand-up comedy. His reaction is less than stellar.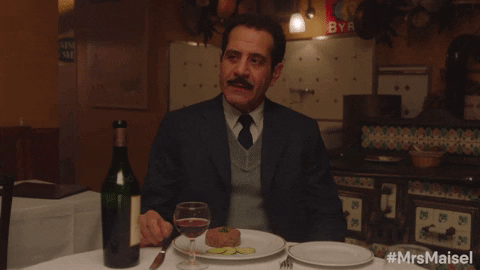 To add insult to injury, Abe also finds out that his son has been working for the government on top secret projects. Discovering that both children have been lying to him sends Abe into a downward spiral throughout the remainder of the season, causing him to lose his job at Bell Labs and contemplate quitting his teaching job at Columbia. As her family struggles at home to help Abe through his crisis, Midge's love life and career both take off.
During her time in the Catskills, Midge is introduced to Benjamin, played by the wonderful Zachary Levi. Years ago, I fell in love with Levi as Chuck Bartowski from Chuck, and of course as Flynn Rider in Rapunzel, so I was excited when I heard he was joining the cast. He plays a rich doctor and art collector who is brash, speaks his mind, and thought to be an eternal bachelor. However, he meets his match in Midge. Sparks fly when he helps get her back to New York for a job.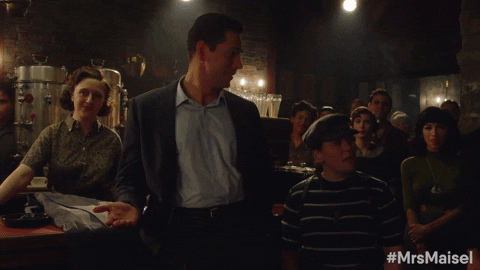 He introduces her to the New York art scene, supports her career, and is adored by her mother. One of my favorite plot points of the season involves Benjamin attempting to obtain Abe's blessing to ask Midge to marry him. It is a long, drawn out process which includes a lengthy interview, checking on financials and other background information, and a long debate as to whether or not he will say yes. His suave public persona starts to crack as he keeps checking in with Midge to see if Abe has made a decision yet. The introduction of Benjamin also sets up a love triangle between Midge, her new man, and her almost ex-husband Joel. While Joel still accepts his fate of not being with Midge due to her career, he also seems reluctant to watch her move on with someone else. There are still sparks between Midge and Joel. However, Benjamin supports her and her career; he even goes to the comedy clubs to hear her routine. He wants to marry her knowing her career goals and all. (Yes, I am team Benjamin at this point).
One of the major themes toward the end of the season is the need for Midge to tour and get her name out there. Midge and Susie go on a short tour and discover its not as easy as one might think. Then in episode 9, Midge gets a break: a television gig—too bad Sophie Lennon (the female comic Midge badmouthed in season 1) is one of the main supporters of the charity and helping with the event. Midge loses her prime location, and instead is bumped to the very end of the night. However, this works in her favor because instead of holding to the rigid television rules, she adopts a "f**k it" attitude and does what she wants.
She kills it.
After seeing her perform, a singer offers her a spot on his tour.
As the season ends, we are left with multiple cliffhangers—What will happen to Midge's parents if Abe quits and they lose the apartment? Will Susie jump ship for Sophie Lennon? Who will Midge end up with in the end? So many questions! Here are my predictions for season 3: we will pick up toward the end of her tour where she is preparing to head back to New York and the chaos of her parents potentially moving. I think Susie will stick with Midge because Midge could become bigger than Sophie. While the season ends with a declaration that Midge plans to be single the rest of her life, I wouldn't count either man out just yet. This love triangle is here to stay for a while. Now to wait for the next season and see where we rejoin Midge's journey.
Are you a fan of 'The Marvelous Mrs Maisel'? Tweet us your thoughts! @collectivenerds
---
Nerdy Donut is part-academic and part-fangirl. Since her Hogwarts letter never arrived, she earned her PhD in Humanities where they call it a job letting her research and write about the Disney princesses and Harry Potter. When she is not dealing with muggles, she can be found reading young adult fantasy and binge-watching cartoons.