It's the most wonderful time of the year…for cheesy holiday movies. We here at the Collective often indulge in hot cocoa and Hallmark's bestworst  movies to offer us during December. We decided to share a few of our favorites with you, in case you've watched The Christmas Prince: Royal Wedding and need another fix of tropey goodness…or, for the more select film watcher, we've got some more refined Christmas classics for you to enjoy! So pour the eggnog, grab a snuggie and settle in for Christmas cheer. 
The Bishop's Wife
(1947)
Recommended by The Collected Mutineer
You may be more familiar with the Whitney Houston remake from 1996, but I'm partial to the Cary Grant version (because, well, Cary Grant). This film, while not Christmas-oriented on the surface, focuses on an angel named Dudley who has come to guide Bishop Brougham and his wife Julia during a time of familial and professional hardship. While helping the family, Dudley realizes that he is falling in love with Julia, something that is obviously forbidden. When his work is done, he must leave the family behind on Christmas Eve, but is satisfied that he completed his mission. Sounds a little sad, I know, but the themes keep me coming back—answers to prayer, doing the right thing, and remembering what is important. If you enjoy classic Christmas films like It's a Wonderful Life, give this one a try.
A Christmas Story
(1983)
Recommended by The Collected Mutineer
I didn't see this film until I was in high school, but it quickly became a favorite thanks to repeated showing on TBS. Something about Ralphie's wintery tale of longing for that one special toy resonated with me. It doesn't hurt that the narration by author Jean Shepherd is hilarious. (I'm starting to think maybe I have a thing for funny Christmas movies.) Part of the film's charm isn't even related to Christmas directly, but derives directly from the anecdotes about Ralphie's family. Everything from the Leg Lamp to the Little Orphan Annie decoder paints a picture of life in the 1940s, and how it isn't all that different from life now.
Babes in Toyland (1986)
Recommended by The Collectress
If you want to be truly not-mainstream and claim that you've seen a Keanu Reeves film pre-Bill and Ted's Excellent Adventure, here you go. Keanu is 22 and his acting is…amazing.
The film also stars a very young Drew Barrymore, and this film borders between the sweetly whimsical and the highly ridiculous. Every time I watch it, I don't know if it feels like I'm high or that I should be high…either way, it's a favorite of my family's, ridiculous props, costumes, plot, and all.
Home Alone
(1990)
Recommended by The Collected Mutineer
Some of my earliest Christmas memories involve watching this classic comedy with my family. It didn't matter that I knew what was going to happen, and which bad guy was gonna get hit in the face (or groin) with what booby trap—there was something hysterically magical about Kevin McCallister's stay-at-home adventure. It was side-splittingly funny, while also making me want to curl up next to my mom and never let her go. If you've never seen this movie, or perhaps haven't seen it in a while, I encourage you to give it a go. You'll laugh, possibly get emotional about the Christmas spirit, and did I mention it's really funny? Merry Christmas, ya filthy animal.
Batman Returns (1992)
Recommended by The Nerdling
The sequel to Tim Burton's 1989 hit is not the most traditional of holiday movies. It is sexy, violent, campy, and so much fun. The beautiful christmas decorations and pristine snow contrast perfectly to the neo-gothic look of Gotham. It also makes for a great backdrop to the Caped Crusader's fight against two unlikely foes, Catwoman and Penguin. Just beware of the mistletoe. It "can be deadly if you eat it."
Borrowed Hearts (1997)
Recommended by The Collectress
This one is a genuine trope-fest. Fake/pretend relationship? Check. Cinderella-ish story? Check. Christmas miracle? Check. Check. Check.
This film stars Roma Downey (Touched by an Angel) and Eric McCormack (Will & Grace) and it's the embodiment of everything we loved (or didn't) from the 90s–crushed velvet dresses, overly-hairsprayed hair, and soft lighting. If you're looking for a Christmas cheesy movie, this one is for you.
Elf (2003)
Recommended by The Nerdling
2018 has been a depressing year and sometimes you just need that unbridled, uncynical, childlike glee to keep yourself from going insane. No one does childlike better than Will Ferrell. And you can't get any more uncynical than Elf. When Buddy screams "SANTA" with such fervent delight and is so excited his hero is coming to Gimbles, I can't help but feel excited for the possibility that jolly old man's could be real.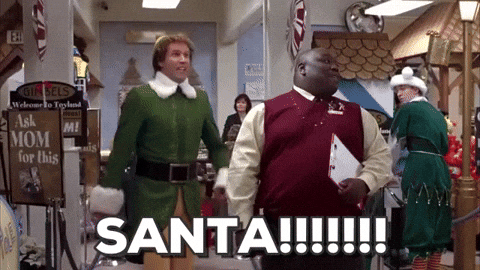 The Polar Express (2004)
Recommended by The Collected Canadian
The Polar Express reminds me of the magic I believed in as a child. Christmas season was a time of actual joy and excitement, fueled by the prospect of seeing Santa, decorating the tree, and being with family members I rarely spent time with. As an adult, much of this has been replaced with stress, fatigue, and the absence of joy. In the movie, we see The Hero's Journey enacted once again as our lead takes the risk of jumping aboard The Polar Express, off on new adventures leading to personal growth, new friendships, and of course, Santa. I'm revived by this possibility: to see and believe in a little magic once again. 
Joyeux Noël (2005)
Recommended by The Collected Canadian
I see more evil than good in the world, most days. Every media platform seems infected with words and images of violence and corruption. Joeux Noël contains both. It's WWI. There is no happy ending, but it presents a true story from a small place in  that war, in which a global hope was attained: peace. This is not a delicate, feel-good journey for your emotions. You will smile and cry. You will witness people striving toward goodwill, only to be annihilated by corrupt, political agendas. The positives of this film (aside from its cast—Diane Kruger, Benno Fürmann, Guillaume Canet, Daniel Brühl, among many more), are its reminders of the existence and healing force of good; it is at work even in some of the world's greatest wounds.
---
What's your favorite holiday film? Tell us in the comments!