Welp, I screwed up and missed my Motivation Monday post (oops…), so here I am, bringing you some RuPaul wisdom to get you through your Tuesday. And if you don't know who RuPaul is, well, she's the Glamazon, Supermodel of the World who has dragged (pun intended) her career into an international spotlight and made the drag community an international phenomenon with the hit reality series RuPaul's Drag Race. (He's also an author, musician, actor, and probably the owner of a small empire.)
"We're all born naked and the rest is drag."
This is one of my favorite quotes because it cuts right to the truth–we're all born the same way (for the most part) and everything else is just added on later. A simple interpretation would be the obvious–some of us drag ourselves into jeans and tees and some of us prefer sequins and body glitter–but a deeper reading might be that we're all born without knowing who we are and we grow into ourselves, aka our inner drag queens.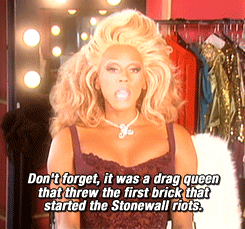 "I will not be ignored. I am here to stay."
This quote is really motivates me to be louder and prouder of who I am. It's easy–really easy, considering today's political climate–to want to stay quite and under the radar, to just shut up and be ignored until it all blows over. But nothing changes if we stay quiet, and now is more important than ever to remind the world that the LGBTQ+ community has been here and will be here and we're done with people pretending that we don't exist.
"With hair, heels, and attitude, honey, I am through the roof."
The comedian Iliza Schlesinger once described makeup as "war paint", and the older I get, the more I can see why that is. There's something incredibly ego-boosting about getting yourself all did up, and yeah, big hair, high heels may be impractical for just about anything, but there's something also incredibly empowering about them. Perhaps it's because you know you could trample a heart or two with that little stiletto?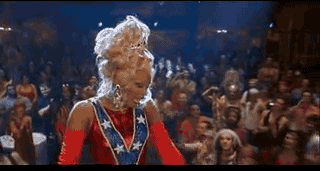 "Drag is really about mocking identity. Drag is really about reminding people that you are more than you think you are – you are more than what it says on your passport."
Going back to what I say about the first quote, we're born as blank slates, and we spent a good portion of our lives figuring out who we actually are. Your passport is the most minimal of information about you: age, birthday, nationality, gender, but you are more than those things, and you are not defined by them.
"If you don't love yourself, how in the hell you gonna love somebody else?"
You gotta love yourself first, because if you do, that love will show in every other aspect of your life.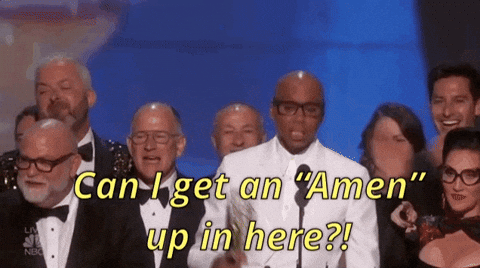 Now, sashay away and kick ass on this cold December Tuesday.
-TC