By Nerdy Donut
The second season of the Amazon hit, The Marvelous Mrs. Maisel, premieres today, and if you haven't yet indulged, I'm here to give you three quick reasons you should be watching the show. 
The Characters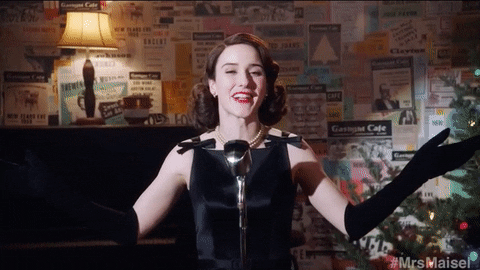 Miriam "Midge" Maisel is a powerhouse of a character and it is no surprise that Rachel Brosnahan won the Emmy for Best Actress. She delivers the quick-paced dialogue with precision, and her personality is larger-than-life. The basic premise is that Midge is a 1950s housewife whose husband leaves her, and then she transitions to being a stand-up comedienne. Seeing Midge come to life on stage, find a job, and learn to embrace life as a divorcee is fun and entertaining. Susie, Midge's gruff manager, is a great counter to Midge's positivity. The comedic timing of these two women is perfect. Susie is grumpy, she swears like a sailor, and she is sure Midge is the next great thing and she will help Midge be successful. Also, if you throw in Midge's conservative Jewish parents who cannot grasp having a divorcee daughter, her (ex)husband and his mid-life crisis, and a collection of other random and wonderfully quirky characters, this is a fun cast that reminds me of Gilmore Girls' Stars Hollow, only transported to 1950s New York.
The Writing
When I heard Amy Sherman-Palladino was writing a new show, I knew I had to watch it. I fell in love with her style in Gilmore Girls, and couldn't wait to see what she would come up with next. Midge feels like an improved mix of characters from Stars Hollow. The dialogue is witty and quick-paced, as one would expect with Sherman-Palladino, but there is more refinement to some of these characters. Of course Midge's stand-up comedy is great, but it is her quick-witted banter of everyday life that keeps the pace of the show moving forward. Whether it is on stage, in the break room at the department store where Midge works, or in her parent's apartment, the premise of a housewife turned working woman in the 1950s also provides great set-up for awkward and endearing moments for all the characters.
The Costumes
I love 1950s fashion, so this isn't surprising, but the clothes in The Marvelous Mrs. Maisel are gorgeous. Since Midge is upper-class New Yorker she has a plethora of gorgeous dresses, coats, and accessories. All of the men wear tailored suits, the women are in fur and hats, and I just about died watching the women work out in blouses and slacks. If you've an eye for classic fashion, look no further than this show.
With only eight episodes in season one, and because of the humor and lighthearted nature, it is an easy weekend binge. I have already binged the show twice and am ready for the third in preparation for season two. I can't wait to see what adventures this season will bring for Midge and the rest of the cast of The Marvelous Mrs. Maisel.
---
Nerdy Donut is part-academic and part-fangirl. Since her Hogwarts letter never arrived, she earned her PhD in Humanities where they call it a job letting her research and write about the Disney princesses and Harry Potter. When she is not dealing with muggles, she can be found reading young adult fantasy and binge-watching cartoons.