If you're like me and have been in a Freddie-induced mania since the release of Bohemian Rhapsody last week, then you've probably also been sucked into the YouTube vortex of Queen videos and BTS interviews. I'm about to see the film for a third time in five days (ooohhh is this a new personal record?), and I thought I'd bless you all with some Freddie content on your Friday.
Queen's Live Aid Set, 1985
If you haven't seen what's been dubbed as the best live performance by a band…ever…then click on the video and see the power of Queen onstage. Go on, I'll wait.
Also, fun fact: The Mutineer told me that Queen was the loudest of the performances given that day, so the scene in Bohemian Rhapsody when Miami Beach messes with the sound controls probably did happen.
Freddie Mercury Interview, Munich 1984
This is probably the most famous interview given by Freddie, and since he so rarely gave them, it's really a thing of beauty. He talks about his solo album, his relationships with his bandmates, and the routine of being a rockstar. Given the larger-than-life persona that we see from Freddie on stage, it's really a nice look into the kind of man he was offstage, the man who wrote such iconic songs as "Bohemian Rhapsody" and "Love of My Life."
Fashion Aid with Jane Seymour, 1985
This event was organized by the same man who organized Live Aid, and it was a single-night fashion benefit to organize relief for the Ethiopian famine. Freddie's appearance with Jane Seymour as a royal wedding couple is capitally I C O N I C and singlehandedly made the military jacket sexy again. (Note: Rami Malek does wear a version of this outfit in Bohemian Rhapsody during the party scene).
Freddie's Improvisation With Audience, Wembley 1986
The "Live at Wembley" performance is probably my favorite of Mercury's career, and this particular improvisation really emphasizes Mercury's charisma and ability to engage a crowd (it's also the Mutineer's favorite). I've never seen any audience as interactive as during a Queen concert (and even now, Queen's songs are favorites to be played at sporting events at karaoke for a reason). I especially enjoy Freddie's final words to the crowd in this clip. I laugh every time.
"Barcelona" with Montserrat Caballe, Barcelona 1988
Freddie's final concert with Queen was given in 1986, but his actual final performance was given in 1988 in Barcelona. He had worked with opera singer Montserrat Caballe on a song for the 1992 Olympic games, and when the Olympic flag was brought to Barcelona in the late 80s, the two sang together and Freddie's powerful vibrato next to Caballe's controlled range is nothing short of spectacular. The song was played at the opening of the 1992 Olympic Games in Barcelona, although Mercury passed away in November 1991.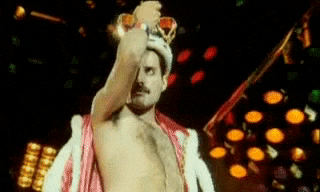 Queen's lead singer was charismatic, engaging, and one hell of a vocalist. His lasting influence and ability to engage a crowd is still impressively relevant even now, nearly thirty years after his death. The power of Mercury's songwriting is still present, and in perhaps the best modern tribute to Mercury, here is one last video of the audience at a 2017 Green Day concert, rocking out to "Bohemian Rhapsody" before the band they paid to see ever takes the stage.