Bohemian Rhapsody is the musical biography film of the year; Queen's music has been heard around the world, and there is scarcely a sporting event in the United States that doesn't play "We Will Rock You" at least once. Their music is ubiquitous (and really damn catchy), but what of the man behind the voice? Who was Freddie Mercury, really? The answer is both simple and complicated at once: Freddie Mercury is Freddie Mercury.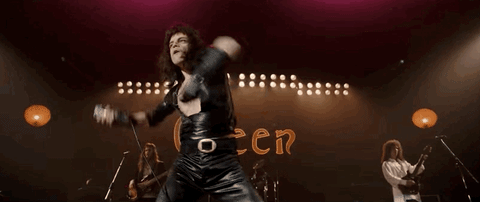 The film follows the life of Freddie Mercury (Rami Malek), born Farrokh Bulsara to Parsi parents. Bohemian Rhapsody begins shortly before Queen is conceived, showing us a young Farrokh who worked at Heathrow airport as a baggage handler. Later, after Farrokh meets Brian May (Gwilym Lee), Roger Taylor (Ben Hardy), and John Deacon (Joe Mazzello), and forms Queen, he becomes Freddie Mercury, the lead singer to one of the most dynamic and enduring musical acts in existence. The band's path to success isn't always a smooth one, however, and we see Freddie's choices lead him to isolation and loneliness. We see that slippery slope of fame and the changes it brings to Freddie's life. Mostly, though, we see a lot of rock 'n roll.
The film's true heart is, of course, the music. The band's journey of discovery and experimentation with sound and genre is a true joy to watch, particularly the sequence in which they compose "Bohemian Rhapsody." For fans of the band, it's like a two hour video montage of the discography that made them one of the most popular acts on the planet.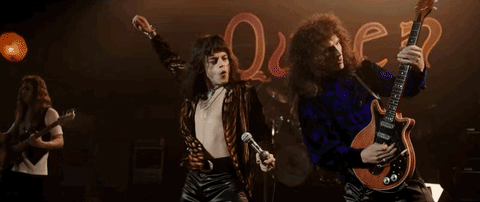 Queen is one of those bands that I can never remember not listening to. My father was a fan, so I knew the music, but I knew nothing of the men behind it, nothing of Freddie, until I reached high school. Until I was fifteen, the music was just music; the songs had no authorial intent behind them, but rather they existed to be digested by the listener in whatever way they chose. When I was in high school, one of my best friends and I spent the majority of a weekend watching reruns of Queen television performances–including the iconic Live Aid set. Neither of us knew it at the time, or maybe we did but we were too closeted to say anything, but we were both drawn to Freddie's dramatic style because we sensed that, on some level, we could identify with Freddie. Even now, Queen's "Bicycle Race" holds a special place in my heart, because I'm pretty sure it's the song that was playing when I came out to my friend in a hotel room in Las Vegas a million years ago. We stayed up late that night, and many before and after, listening to Freddie's vibrato. Freddie is one of the queer musical icons that inspired me to become comfortable with my sexuality and my LGBTQ+ community, so Queen's music means a helluva lot to me and others like me.
Bohemian Rhapsody knows that, and embraces Freddie's immortality as a queer icon.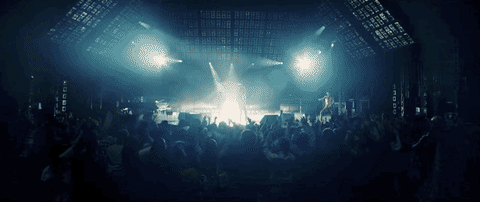 When I first heard that Bohemian Rhapsody  was in production, I was nervous. I was worried that Freddie's sexuality and diagnosis wouldn't be addressed, that it would be glossed over and candy-coated in order to be "more palatable" to a mainstream audience. While not explicit, Freddie's lovers and preferences are discussed, and honestly, the most emotional scene in the film is the one in which he tells his bandmates that he "has it." It's not hidden; it's not ignored, and that, I think, is the most important thing in this film: Freddie is shown as Freddie. He's a musician, a showman, an entertainer, but he's also a queer man who's been diagnosed with HIV.
The film doesn't linger in the melancholy, however, because almost immediately after this revelation, the band performs at Live Aid. The film's peak is the Live Aid performance, which is probably the best live performance ever given by a band, and given that it was seen by over a billion people, it's hard to argue the fact. The recreation of it was so spectacular, that at times I forgot that I wasn't at home rewatching the YouTube clips of the original performance. It was hard not to sing along in the cinema, and I can only imagine that the rest of the audience felt the same. In that sequence, I felt like a teenager again, discovering genre and music and and this crazy little thing called love all over again.
Watching Bohemian Rhapsody made me happy in a way that only listening to Queen music can do. I laughed, I cried, and I've had "Who Wants To Live Forever" on repeat ever since leaving the cinema. If you're a fan of the band or of music, you should add this to your must-watch list.
Bohemian Rhapsody is not playing in U.S. cinemas.