By The Collectress
Happy Halloween month, everyone! As is tradition, I want to share some tips and tricks for a quick and easy DIY Halloween costume to wow your friends and family at your Halloween party!
I decided this year to go a little more devilish, and to portray who I think is the most evil of all Disney villains: Cruella de Vil.
Cruella terrifies me because 1) she wants to kill puppies, a trait that only belongs to truly evil people and 2) she likely has histrionic personality disorder which leads her to be callous and unfeeling towards pretty much the entirety of humanity.
So naturally she was my first choice for a villain to cosplay.

The Look
I decided, rather than create a costume based on edthe animated film version of the character, to do a posh 60s aesthetic. I felt that would work well with Cruella's cold personality, and I just really dig the 60s. You can twist this character however you like, but you do need a few essentials:
black closely-fitted dress (long, short…up to you)
red high heels
red gloves (I got mine here on Amazon)
long cigarette holder (also bought on Amazon)
Fur coat, of course.
If you do not have one, you can probably find a suitable black dress and red shoes at your local thrift/charity shop. It is also likely that you will find a faux-fur coat to use at a thrift shop, but if not, there are several options on Amazon like this one that won't break the bank.
I also added a costume-y pearl necklace because I liked how it looked. Cruella is supposed to be filthy rich so bling it up all you want.
Hair & Makeup
Hair
Cruella has a very distinct white/black style. I chose to do a sleek shoulder-length bob because it fit that 60s vibe I was going for. I found this wig on Amazon for about $15USD, but if you have dark hair, you could easily spray paint it white on one side with paint such as this.
There isn't one right hairstyle for Cruella, so long as you have white/black coloring. You could get pretty creative and style it in a retro hairstyle if you want a really stylized look.
Makeup
So the day I took these photos, I also happened to be photographing two other costumes, so I needed to create a makeup look that worked for all three. I wanted to keep my aesthetic very cold and sleek. Think Meryl Streep in The Devil Wears Prada. She's not always likeable, but damn does she have style. That's what I wanted reflected in my makeup, and I actually referred to some Meryl looks when figuring out the palette I wanted to use.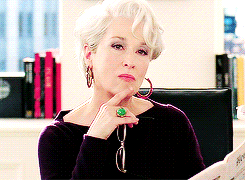 I actually used Mac's white foundation, followed by my normal Smashbox powder, to create a very cool skin tone. You could use a lighter foundation, or just a hell of a lot of white highlighter, to create a similar effect. My eyeshadow is all silver and grey, and is very similar to this makeup tutorial, actually, with a few adjustments:
Give Me All Your Puppies
The most important accessory of any outfit is your attitude of course, and Cruella has crazy in spades. Practice your evil laugh, or your death glare! Cruella isn't a nice person, and since Halloween is a good time to pretend to be someone else…Don't be afraid to embrace your inner de Vil. And remember: You Want Those Puppies. 
*No puppies were harmed in the creation of this costume. The Collective Blog only promotes caring for all of our animal friends.
** All photos were taken by my good friend Thomas Truong. You can check out more his work on Instagram and on his website! 
---
Got a Halloween costume you want to show off? Tweet it at us! @collectivenerds