It was recently announced that the Academy Awards–which will have its 91st ceremony next year–will include a new category: Popular Film.
It's no secret that the awards show has struggled with ratings, and interest/respect in general, over the last few years, because of social media movements like #MeToo, and #OscarsSoWhite. This latest move seems to be an act of desperation–a last ditch effort for the elite of Hollywood to say "hey, we're actually interested in the average movie-goer."
Except they're not, and if they were, they wouldn't even have considered a "Popular Film" category. Popular film, in this case, means big studio-driven and commercially successful (and, possibly, franchised).
I would like the Academy to consider the roots of the film industry, and in particular some of the biggest films to ever win that golden statue for Best Picture. A film does not have to be 'niche', or controversial, or independent to be considered the best of its cohorts, and a little trip down history lane may prove that.
Gone With The Wind, 1939 Best Picture Winner
Gone With The Wind is one of the most commercially successful films of all time. Its budget was over $3 million (which at the time, was extremely large), and is calculated to have grossed over $390 million since its initial release.
If you adjust for inflation in the US currency since 1939, that means this film has made the equivalent of over $3 billion. (To compare, Avengers: Infinity War has to-date grossed a little over $2 billion).
I would say that constitutes, popular, wouldn't you?
Ben-Hur (1959)
This film is actually a remake of a 1925 silent film of the same name. That's right, a remake won the biggest award in Hollywood. If you haven't seen the film, it is a historical epic that later films (such as Gladiator) definitely took cues from. The chariot race scene alone took five weeks and $1 million to create, and considering the film's budget was $15 million, that's a helluva large amount to spend on one scene (adjusted for inflation, the film's budget today equals well over $100 million).
After its release, the film became the second-highest grossing of all-time, falling behind Gone With The Wind. In perspective, the 2016 remake of the film had a $100 million budget, but only grossed $94 million, whereas the 1959 version starring Charlton Heston earned almost $150 million in its first year of release (and that isn't accounting for inflation).
The film earned eleven Academy Awards, including Best Picture.
The Silence of the Lambs (1991)
It is exceedingly rare for a horror film to receive Academy attention, but The Silence of the Lambs defied genre expectations and became the fifth-highest grossing film of 1991, and in essence, spawned a franchise with three additional films and a television series. Hannibal Lecter remains one of the most recognizable villains in film history, and this film went on to win five Academy Awards.
Titanic (1997)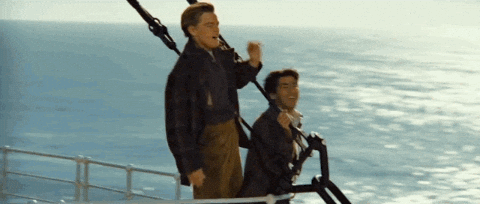 I don't think I really need to say much about this film, since it is kind of ubiquitous in modern cinema and there is no doubting its popularity. It also turned Kate Winslet and Leonardo diCaprio into box office draws, and we all know Celine Dion's "My Heart Will Go On" as "The Titanic Song."
Speaking for myself, I saw this film four times in cinemas. Mostly because my mom thought Leonardo was cute.
The Return of the King (2003)
I could (and have) write long missives about this film, but let me just let the numbers speak for themselves.
second film in history to earn over $1 billion
estimated 60 million tickets sold in the United States in initial run (10 of them to me…)
highest grossing film in 2003
won 11 out of the 11 Academy Awards it was nominated for.
This list is by no means conclusive, but rather a random small sampling of popular films that have won Academy acclaim.
By separating "popular" film from films that you consider "Best Picture" worthy, you are implementing the idea that there is high-brow and low-brow culture, and I think that the unity that you are professing to be creating with this new category will instead become a mark of condescension towards popular culture. Instead, you might remember the long history of the Awards and that for most of them, movies that both critics and audiences loved were the ones that won.
Just a thought.