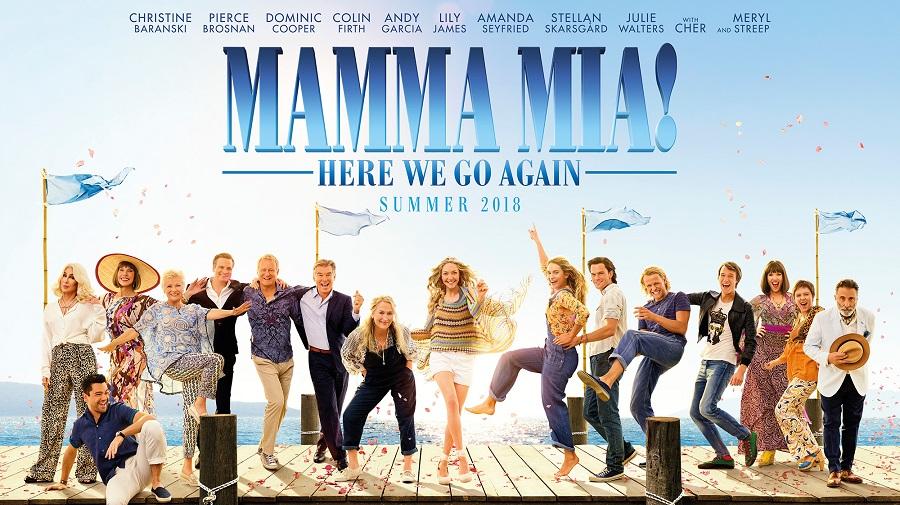 By The Collectress
Ten years ago, I was enchanted by Mamma Mia. Although I had grown up listening to ABBA, I was unfamiliar with the musical, but I instantly fell in love. The soundtrack lived in my car until SoCal's relentless heat warped the CD, but I'd long since memorized every track. The first film's wistful musical abandon endeared it to viewers, so when the sequel Mamma Mia: Here We Go Again was announced, I was uncertain that they could recapture the magic of the first film. So, after ten years, does the film keep its hopeful portrayal of young love? Well…yes and no. The sequel delivers some beautiful tender moments, but it's not without a heavy dose of feels.
The film's narrative structure differs from the first, in that it's told in two timestream: the "now" which follows Sophie (Amanda Seyfried) and the "then" which follows young Donna (Lily James) in the 1970s. SPOILERS The "now" timeline shows an older, sadder Sophie who is struggling to reopen the Greek hotel after the loss of her mother. The "then" timeline shows young, carefree Donna falling in and out of love, but quickly growing up when she realizes she's pregnant with Sophie.
Most of the cast from the first film returns, ten years older, but still as goofy and campy as we remember. Colin Firth's Harry is still my favorite, and his proud hip-shimmying during "Dancing Queen" is a highlight of the film.
Joining the cast are the younger counterparts to Harry (Hugh Skinner), Bill (Josh Dylan), and Sam (Jeremy Irvine), as well as a suave Andy Garcia as Fernando Cienfuegos, to whom Cher (who plays Sophie's grandmother) sings "Fernando." In fact, of all the musical numbers in the film, Cher's "Fernando" is probably the best…just because it's Cher singing ABBA. And, if you're keen-eyed, you'll spot Bjorn Ulvaeus and Benny Andersson in a couple other numbers as well.
Though the musical is still happy and fun–and still has a slight tendency toward the ridiculous–it comes with an undercurrent of sorrow. The story is not about the hotel's reopening, or Donna's love affairs, but rather how these two women handle the biggest changes of their lives. Both Donna and Sophie learn how to be a mother without their own mother there to guide them, and it's this bittersweet knowledge that turn some of the happiest moments in the film to tender tugs at our heartstrings.
I don't really know what else to say of the film without giving away too many spoilers,  but if you enjoy ABBA's music and you enjoyed the first film, this one is worth a watch. If for no other reason than to enjoy this moment of cinematic beauty: