By the Collectress
One of the very few perks of my RL job is that I don't have to work most Fridays–leaving me to catch up on my shows. My latest Friday binge-watching obsession has been Killing Eve, and if you haven't yet enjoyed it, you are in for a wild ride full of intrigue, assassins, and conspiracies.
The series follows Eve Polastri (Sandra Oh), a middle-shelf MI-5 officer who gets mixed up in an international assassination conspiracy, almost entirely by accident. After a few run-ins with a deadly Russian assassin, Eve is hired by Carolyn Martens (Fiona Shaw), to locate the woman, code name Villanelle. Eve's mission turns into a game of cat-and-mouse–although it's never entirely clear to the audience just who is the cat and who is the mouse. Killing Eve is a cleverly spun web of espionage and intrigue, but here's a few more reasons to give it a try.
#1: Sandra Oh
I became a fan of Oh's after seeing her in films like Sideways and on Grey's Anatomy, and while I long ago gave up on the medical melodrama, I did miss seeing Oh on my screen every week. Sandra has the remarkable ability to instantly make the audience care about her character, while still portraying a woman who is flawed and fragile yet strong. She's a tour de force and her natural no-nonsense persona fits well into this genre.
Oh, and she swears and drinks a lot, which is probably my favorite thing about the show.
#2: It's Actually Really Funny
The show is quite serious, violent, and focused on a psychopath, but there's always several moments in each episode that make me laugh really hard. Mostly because Sandra Oh has exceptional comedic timing and a talent for delivering biting wit with a straight face.
It also shows the characters in rather ridiculous situations–some of them so ludicrous and cliche that you can't help but be amused, such as an assassination happening in an underground German sex club. Ridiculous, but amusing.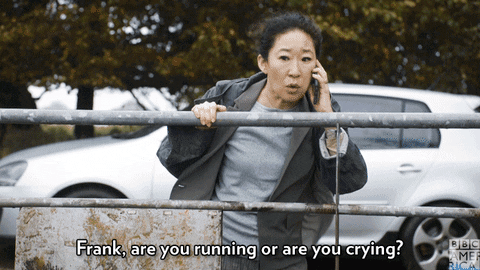 #3: Villanelle
Villanelle is a complicated woman: she's a probable psychopath who is used to getting things her own way, but she's also delightfully anarchistic and laissez-faire. She also represents the queer community since she is shown onscreen to have sexual encounters with both men and women, and has a less-than-healthy attraction/obsession with Eve.
In fact, I live for the interactions between Villanelle and Eve. They have palpable chemistry (whether it's hate or something else) and their back-and-forths are brilliant. Neither seems to be able to look beyond the other, and their inevitable showdown left me with chills.
Also, the show doesn't ignore the fact that there's a strange kind of sexual attraction between them, and bless them for that (even if it's all kinds of f***ed up).
If you're looking for a new espionage drama, check out Killing Eve. And while you're watching, tweet me about it.