by the Collectress
Since the 41st anniversary of Star Wars has just come and gone, Carrie Fisher has once again settled on my mind (okay so she's always on my mind). Carrie was an impressive lady who was very honest with her struggles with bipolar disorder and addiction. And from that honesty, there are a few valuable lessons we should learn. 
"Resentment is like drinking poison and waiting for the other person to die."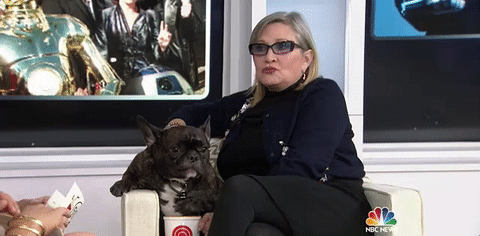 "Stay afraid, but do it anyway. What's important is the action. You don't have to wait to be confident. Just do it and eventually the confidence will follow."
"No motive is pure. No one is good or bad-but a hearty mix of both. And sometimes life actually gives to you by taking away."
"You know what's funny about death? I mean other than absolutely nothing at all? You'd think we could remember finding out we weren't immortal. Sometimes I see children sobbing at airports and I think, 'Aww. They've just been told.'"
"Please stop debating about whether or not I aged well. Unfortunately, it hurts all three of my feelings. My body hasn't aged as well as I have. Blow us."

"I tell my younger friends that no matter how I go, I want it reported that I drowned in moonlight, strangled by my own bra."

Go out and face your week like Space Mom: unapologetically. Make her proud.