I have endeavored to keep this review spoiler-free and will tag any potential spoilers with **. 
Do you remember Wade Wilson's appearance in Wolverine: Origins? No?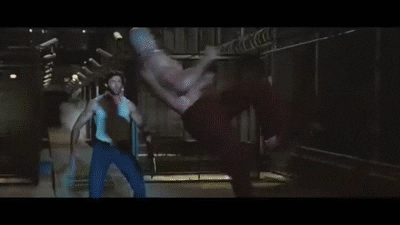 Well, Ryan Reynolds sure does, and he's spent the last decade trying to make up for it. Where Deadpool the first was an origin story of epic and uncouth proportions, Deadpool 2 is the sequel that's bigger, badder, and more raunchy than any other film in the comic book film genre.
It's also surprisingly tender, and I'm not just talking about Wade's gentle groping of Colossus.
Deadpool's sequel begins with DP kicking some butt, and our favorite cabbie, Dopinder, decides that he wants to join the Sister Margaret's School for Wayward Girls AKA the merc club. After the action-packed beginning, however, tragedy strikes and DP seeks out his X-Men friends to find some comfort…and maybe a little over-the-pants action from Colossus. DP isn't good at being one of the good guys, and eventually he begins his own X-Force in order to take down the cybernetically enhanced time traveler, Cable (Josh Brolin)…and save a kid. In true Deadpool fashion, there's some ridiculous gore, a lot of penis jokes, and refreshingly antiheroic characters.
Whereas the first film's origin story was fairly straightforward and with a limited scope, Deadpool 2 doubles the number of characters, doubles the plot twists, and doubles…did I mention raunchiness? Because that's definitely doubled too.
Also, surprisingly (or, maybe not so if you know much about DP's comics), Deadpool 2 doubles the feels.
Whereas the first film lightly touched on darker subject (namely, Wade's cancer), in Deadpool 2 tosses an unexpected number of emotional and ethical dilemmas in the path of the characters, and by proxy, us.** We know that Wade cannot die, and yet we are presented with a Wade who wants to because he has nothing left to lose. The film, varying from its recent counterparts, *cough*Avengers*cough* is not so much about tossing as much CGI-ed action into a two-hour span as it is about helping Wade find something to live for. There's a particularly moving sequence at the end that is as emotional as it is funny, and maybe it's because I'm Deadpool trash but I nearly shed a tear for Wade Wilson (read: I totally shed multiple tears).
Perhaps the other thing of note to mention in DP2 is the soundtrack. Wade's got great taste in music. I mean, watching some major ass-kicking while Dolly Parton's "Nine to Five" is playing is probably the greatest cinematic experience of the year. Partner that with Cher's "If I could turn back time" in the best end credits scene I've ever experienced, and you've got dynamite on screen.
Oh, and then there's the movie's theme song, "Ashes", sung by the one and only Celine Dion.
If you like irreverent, action-packed, not-a-superhero film with a dosing of feels, Deadpool 2 delivers.
P.S. Peter is my favorite.