Pairings: Katniss Everdeen/Peeta Mellark (The Hunger Games)
Word Count: 60,148
Rating: Explicit
Warnings: NSFW
Author's Summary
Katniss Everdeen takes a much needed break from life on a deserted island, where she comes across the hidden treasure of a lifetime. Tarzan!Peeta request by Mega-aulover on Tumblr.
My Thoughts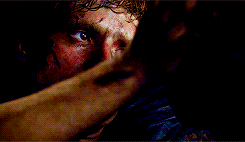 Yes, I'm still in the trashcan labelled "Everlark" with no plans on leaving anytime soon (I'm on page 23 of 171 on AO3). I was drawn to this story because hello, Tarzan!Peeta, but more than that, I stayed because it showed Katniss being brave by being vulnerable.
It's set in a real world AU on a desert island. There's adorably flirty/protective Finnick. Grumpy but doting Haymitch. And, of course, there's Katniss and Peeta, who, no matter the setting, find each other and make each other better.
Read this if you enjoy Everlark, or if you're trash for any hot dudes dressed like Tarzan.
Join me in the Everlark dumpster. We have bread.
-TC