The Road So Far
Last season saw the brothers in a battle with their biggest foe yet: the Darkness. Upon reuniting the Darkness with her brother, AKA God, the brothers were able to take a long relaxing vacation…oh wait, nope. The boys never catch a break. Castiel and Crowley are hunting the Devil, and Dean and Sam are reunited with their mother…who's been dead for thirty-three years.
Oh and Lucifer is footloose and fancy-free.
Synopsis
This episode was a little hard to follow, so I'm going to do my best to make some coherent sense out of its plot—which was more tangled than the last strand of Christmas lights in the box of holiday decorations.
Please, bear with me.
So, much to my dismay, Lucifer left the vessel of Vince Vincente, and "Jessie's Girl" was not once played while Rick Springfield played the Devil.
Opportunity wasted, writers.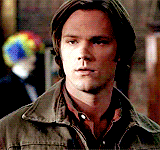 The majority of this episode focused on Lucy and his need for a new vessel. After testing out the local diocese and attempting to recreate scenes from every B-level horror film ever, Lucifer decides that the Devil is better suited for politics.
The Winchesters quickly figure out that fictional leader of America (nevermind that President Obama has been mentioned on the show before…perhaps this is the President of a made-up county…like Genovia?) is the Devil, and with the Secret Service at the Devil's disposal, the Winchesters are hard-pressed to pass off their fake FBI badges as legit. Crowley goes in search of Rowena, since she had promised to help them trap the Devil.
Meanwhile Satan–that's a phrase I can only use in an SPN recap–finds out that President Rooney has a secret affair going on with one of his aides, whose name I don't care about enough to remember so we'll call her Rosemary (yes, as in Rosemary's Baby).
Sidenote: did anyone else hear the President's name and immediately think of the principal Rooney from Ferris Bueller's Day Off? No? Bueller? Bueller?
Anyway, President Satan and Rosemary carry on their love affair. Warning: the sexual relationship between Lucifer & Rosemary is very dub-con. While Rosemary consents to the act, she is consenting to Rooney, not Lucifer. Rosemary laments that they can't be public about their relationship, and things happen–honestly I was paying more attention to Misha's tweets than the show at this point–and eventually Rosemary ends up pregnant with the spawn of Satan.
Wait, what?
Where are the Winchesters during all of this? Well, that's a good question. There's a lot of time spent in the bunker waiting for Crowley to find Rowena so, my guess is that the boys are binge-watching The Walking Dead, introducing Castiel to Cheetos, and commenting on how much Negan looks like their dad.
When Crowley gets his dear old mum to join them, they use a magical Easter egg to pull Lucifer's grace out of the President and trap it in the egg, because according to the writers of this episode who have been writing for the show since season 1, the Winchesters can't send Lucifer back to hell if he's still in a vessel. Yes, really. No, I don't think they ever watched "Swan Song" at the end of season 5.
Although Lucifer is presumed gone (or his grace went down into the sewer, and no one noticed), his legacy remains because sweet little Rosemary, or whatever her name is, escapes from Castiel–angel mojo, what's that?–and decides to keep the baby. Oh, don't worry, the President is fine, but the boys have been arrested by Secret Service.
Oh, and the International House of Douchebaggery sent out Agent Ketch to save the Winchesters, who is somehow knowledgeable about all these events before they happen, but on the upside, the Mutineer came up with this awesome Mean Girls joke:
https://twitter.com/nerdwrldprblms/status/807097852291780608
The Big PictureThe Problem With Satan
All right, real talk here: I love SPN, but there has been an obvious scraping of the barrel for fresh storylines (and consistent writing) over the past few years. I get it; after you write the motherfriggin apocalypse, it's kind of hard to top that. So you look for new mythology–such as the Leviathan, or the Mark of Cain, or the Darkness–and you try to make things bigger and badder than the Devil.
Unfortunately, if/when you bring back the Devil after you've written things that are "worse" than Lucifer, it nullifies the threat. Lucifer isn't the terror he was in season 5: there's no impending apocalypse, no Horsemen, and no threat to Sam becoming Samifer. This is especially true since Mark Pellegrino can no longer occupy the role and bring back the traits and nuances that created the image we have of Lucifer.
Last week, the Devil declared that he had no plan. We saw the Devil, as Vince Vincente, bask in the adoration of fans and the power he had over them in reckless self-indulgence. I halfway expected the midseason finale to be a further exploration of that idea; I expected the Devil to inhabit another vessel in the public sphere, which he did, but I also expected to perhaps build a following, to encourage more people to follow him without question, to establish a satanic cult without the members realizing that they were following the Devil (and if it had a subtle political undercurrent, so much the better).
Instead, we got an episode that focused too much on a villain and not enough on the characters that we actually care about. It's kind of like reading Harry Potter and the Deathly Hallows from the perspective of Lord Voldemort; sure, it's interesting, but we care more about Harry & friends than a bunch of Death Eaters who have competitions to see whose robes billow the best.
Supernatural now exists in a universe where the Winchesters know that God's not around, that Heaven is flimsily structured and full of a-holes, and that Hell is more like a business enterprise than eternal fire and brimstone. Wouldn't it be nice if the writers remembered that and used it to their advantage?
Oh wait, these are the same people who wrote the racist truck episode. Forget I said anything.
Bitchfacing through the Hellatus,
-TC